Posted by The Competitive Store on Mar 22, 2023
If you are struggling to choose the right accessory for your grid panel hanging displays, we are here to help you out.
Most of our customers ask us what's the difference between what I can showcase on a hook vs what I can showcase on a faceout, and we always respond with another question, what do you want to display?
Faceouts are known for being more sturdy, they can hold medium-weight items such as clothing on hangers, purses, mannequins, and so on.
On the other hand, gridwall hooks are exclusive to displaying lightweight items, these can be accessories, jewelry, hair ties, caps, and so on.
But let's talk with some examples of the things you can display on each one of them.
When it comes to hooks, you will find options for displaying one single item such as the 2" hook and maybe also the 4" hook, and also options for multiple item displays, the sizes of the hooks go from 6" long to 12" long.
There is also a hook that is designed especially for art or picture displays, it is called a notch hook or utility hook. Its hook is designed to hold a single strain.
Let's figure out which hook is best for your displays: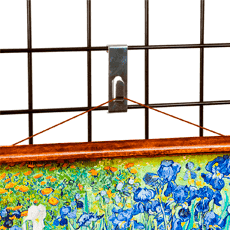 But let's get into real recommendations, if you are looking for picture hooks so you can display light paintings and photographs, you might want to check our utility hooks.
If on the other hand, you are looking to display just a one-star product, for example, a necklace, hair tie, or any other item, probably the best for you would be the 1" hooks.
But if your products are necklaces, caps, ornaments, or even if you want to stack more than one small accessory together, you can go with longer hooks, such as the 2" Hooks or the 4" Hooks.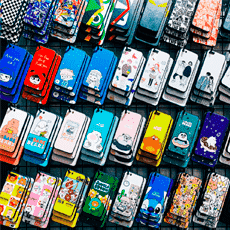 You have 4 different sizes to pick from and it all just depends on what you have in mind for your displays.
All of these metal grid wall hooks are great for multiple displays, such as accessories, jewelry, hats, ornaments, or decor.
By stacking your smaller products together you will upgrade your organization and reduce the clutter around your store. Meaning that you will have so much more free space to increase your display opportunities.
Choose between the 6" Hooks, the 8" Hooks, the 10" Hooks, or the largest 12" Hooks.
When it comes to faceouts you can choose between waterfall or straight faceouts. They come in different styles and shapes so you can choose the one that better suits your display needs.
Let's figure out how to choose the right gridwall faceout.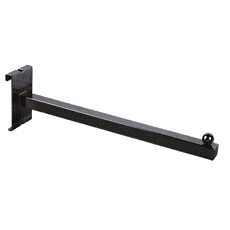 If you need to display several shirts of the same style, and you are more focused on optimizing space during your displays, you'll probably want to choose a straight faceout
Straight faceouts are also perfect for creating an exclusive display, so if you have a new arrival of a hoodie in your store, that hoodie needs the straight faceout to shine!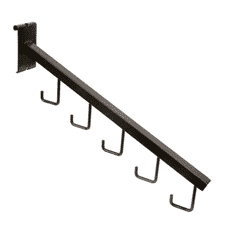 If you are looking for an extra tidy and organized way to display a few tees, and you really need it to be space between them because each of their designs is just amazing and needs to be seen and appreciated, then you definitely want to choose a waterfall faceout.
So, are you choosing a hook or a faceout for your gridwall displays?