Posted by The Competitive Store on Feb 07, 2023
Grid panels are one of the most popular utilities when it comes to displays. They are most commonly used in retail stores, warehouses, craft shows, fairs, garages, and even backyards.

Grid panels are compatible with all standard gridwall accessories and may be used to hold a wide variety of displays thanks to their grid design.


But, how do you hang a grid panel to a wall?

Grid wall brackets are the ones that make this possible, they can be attached to any wall as long as you use the correct screw to safely install them on the wall.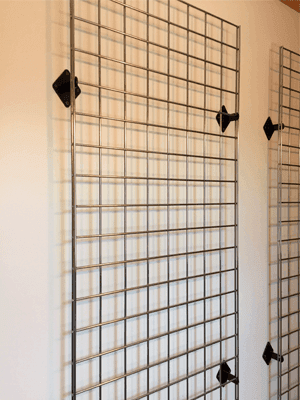 We recommend a minimum of 4 wall brackets to hold 1 grid panel to the wall.

Remember that you will need to test the safety depending on the displays you are planning for that gridwall panel, it is not the same to display heavy items as displaying light-weighted jewelry on a panel.


What kind of wall brackets are available?

The brackets are made out of strong metal and have a color powder-coated finish done by a machine. You will find 3 colors available so you can choose the color that matches your grid panels so your displays are always harmonious.
The shape of the brackets is very stylish, they come in a diamond shape. And their hooks support both gridwall and slat grid panels.

Suggestions on how to attach a grid panel to the wall

Measure your grid panels, then measures your wall space to check if the panel will fit
Find the studs and mark the wall brackets in the desired position for the gridwall panel
Start screwing your brackets to the wall, one at a time
Once the 4 brackets are set, add the gridwall panel and check if everything is even
You are all done! You can start adding gridwall accessories to your grid wall panels
Top 10 ideas for grid panel wall displays

We don't want you to leave before we give you some of our best recommendations for grid panels, maybe you could use one or two ideas!

Display artwork in a gallery

Hang pots with beautiful flowers in your backyard

Add faceouts and display clothing at a boutique
Use shelves to store tools in a garage

Display sports balls in a sports store by adding

ball holders
Add baskets and display freshly baked bread in a bakery

Hang pictures with notches to create an original wall memory

Display signage in retail stores and warehouses

Use hooks and display gorgeous necklaces

Display stylish hats by adding

hat holders