Posted by The Competitive Store on Dec 05, 2022

The close competition between eCommerce brands prompts businesses to take their marketing efforts to the next level. If you've been in the retail industry, you'd realize the vital essence of superb customer experience in sales, whether as a novice or professional.
The promotion of your high-quality merchandise only comes to fruition when you use effective campaigns and tools, and this is when the function of a glass showcase cracks in.
Brick-and-mortar stores have realized the importance of glass showcases in their retail as these fixtures enhance storage systems, product selling, and customer engagement.
If you are devising a way to boost the visibility of your items in the market, consider our glass showcase for sale. We build our cabinets from durable, and first-rate materials that would effortlessly highlight the beauty and value of your products.
The Competitive Store features glass showcases in different styles, constructions, and designs. They could perfectly blend with the theme of your store.
Below, we have listed the types of glass showcase cabinets you can secure for your business.
Types Of Glass Showcases We Offer: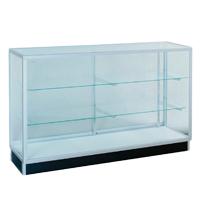 EXTRA VISION
These commercial clothing racks are heavy-duty, adjustable, and portable. They also come in pre-assembled, ready-to-use forms, which would free you more time in the set-up process. The convenience they provide would allow you to store your products easily.
An extra vision glass showcase is ideal for stores with limited space. It is designed for maximum visibility, which means that the entire cabinet can display your goods from top to bottom. Stores that sell sports memorabilia, jewelry, gadgets, and more go for this type of glass showcase.

A typical extra vision cabinet has two adjustable height shelves. It is also available in numerous heights and widths that could adapt to your needs. In addition, our extra vision cabinets have locking rear doors that would secure your products. You can pick from our tempered glass shelves, aluminum frame with black base, and sliding doors.
---
Our full-vision display cases feature a sturdy base and clear glass that would exhibit your products while allowing your customers to have a close interaction with them. Compared to the extra vision showcase display where the glass runs down, the full vision cabinet has a solid platform where the glass frame stands.
This fixture is the appropriate glass showcase cabinet if you have a large area in your store to spare. Our options include wall, counter, and half-case displays ranging from 48" to 70".
---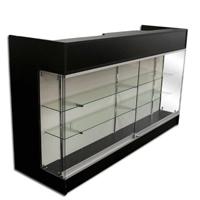 HALF VISION
Add a sophisticated touch to your business with our half-vision showcase. This fixture is the perfect glass cabinet if you plan to display your items or products beside a wall or aisle. While the display coverage of this glass showcase is only half of the unit, its base is still functional as it could serve as a drawer to keep your supplies.
Our half-vision case is frameless, so it is elegant enough to achieve a fashionable motif for your store. We recommend this option if you only have to display small to medium products.
---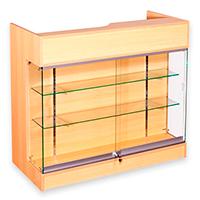 COUNTERS
The power counters hold in a business are often underrated. However, they are the fixtures we use in the most critical transactions with our clients - checking out items and getting those sales! So, we must make them a part of our strategy.
This type of fixture is versatile as you could stock your inexpensive essentials in it. Some stores use their counters to display novelty items, like gift cards, to convince customers to purchase. You can do the same for your business too.
We have a wide variety of counter showcases that you could use alongside your Slatwall, ledge top, full vision, register, and more.
---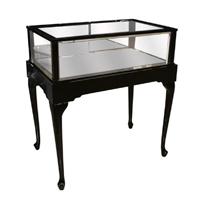 JEWELRY DISPLAY CASES
We make our jewelry display cases from the finest wood and glass. We also offer them in different dimensions that range from 36"-37" to 70".
It is common to see this kind of fixture not just in stores and boutiques but also in museums, for they can display high-end products and protect them all at the same time. We ensure that our jewelry cases exhibit your items and make them interact with your customers.
Our display cases have ample space so you could store various kinds and sizes of jewelry. We built them with firm base support and included locks and lights for a complete viewing experience.
---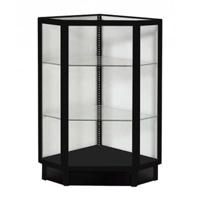 CORNERS
Corners are the best choice if you want a unique display showcase for your store. A corner showcase works for spaces that are too stiff for extra or full vision. The edge of this fixture is tall, which means that you can still maximize a narrow space in a room.
Besides narrow style, we also have extra vision and filler corners that you could incorporate in the design of your store. These assortments are contemporary enough that others prefer them for their homes too.
---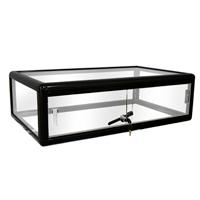 COUNTERTOP DISPLAY CASES
Our countertop display cases are available in different sizes and designs - small, narrow, tall, and large. Use these showcases to display items, including dolls, gadgets, pastries, and any merchandise.
A glass countertop display case is practical, for it can be the fixture where you interact with your customers. Likewise, it enables you to move your items around for aesthetic purposes without compromising their quality.
Consider our lightweight and portable counter display cases to create an exceptional display for your store. We have polished and cut these pieces to last for years.
---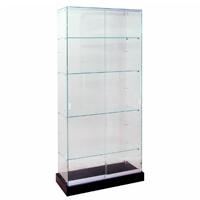 TOWER SHOWCASE
Tower display cases are free-standing glass cabinets that suit retail stores exhibiting collectibles and merchandise. They are tall, and they have sufficient room for your items. Our variants are in full glass, which means you can maximize the whole fixture to display your items for sale.
Our tower display cases are the glass showcase you need if you are after a timeless appearance for your store or if you want to show off your collectibles and memorabilia. Our units are at a reasonable height level so that your customers could have an entire look at the products that you offer.
---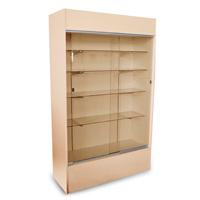 WALL CASES
Wall cases are displays mounted on your wall so you could show your items at eye level. Start-up businesses and stores usually don't have much space; thus, this is an effective alternative to make the most of your room.
Our wall cases have quality glass shelves, brackets, sliding doors, and interior illumination to securely display your items. Many customers prefer to have a close engagement with the products they are eyeing for. With this fixture, you can give that experience and satisfaction to your clients.
Aside from being regular in stores, wall cases are also common in schools and companies as they could preserve memorabilia, trophies, and other valuable items.
The best glass showcase for your business is the one that serves its purpose. So, choose among our variety of displays and go for the units to help your products shine more. Here at The Competitive Store, we will help you build the cabinet you have envisioned for your shop. Our options are simple to install. Grab one and see for yourself!